Sinomeasure signed a strategic cooperation agreement with Zhejiang Automated meter and In
Publish Time:
Author: Site Editor
Visit: 164
On March 16, 2022, Jin Jianxiang, chairman of Zhejiang Automated meter and Instrument industry Association (ZJAIA following) , and Ding Cheng, CEO of Sinomeasure, signed the contract on behalf of both parties. Qiu Xiaojing, Secretary General of ZJAIA, hosted the signing ceremony.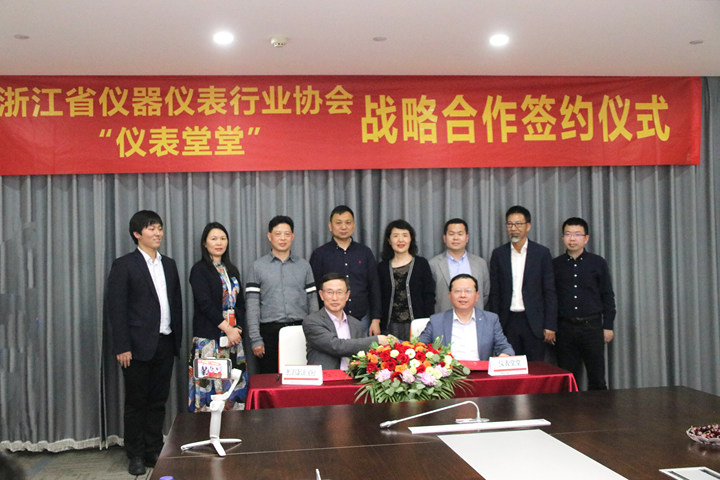 Wang Weimin, general manager of Zhejiang Supcon Technology Co., Ltd., Wang Zonghui, general manager of Ningbo Water MeterCo., Ltd., Guo Haojie, chairman of Hangzhou Pangu Automation System Co., Ltd., Huang Yongzhong, chairman of Zhejiang Zhengtai Chitic Control Engineering Co., Ltd. and Lin Jianfen, Senior Vice President of Goldcard Smart Group Co., Ltd. were invited to attend the signing ceremony.
At the ceremony, Chairman Jin Jianxiang pointed out that ZJAIA has been promoting various work around the instrumentation backbone enterprises, small and medium-sized enterprises and the industrial chain, and fully supports the high-quality development of instrumentation industry in Zhejiang. ZJAIA will take this cooperation as an opportunity to continue to strengthen services and better serve the instrumentation industry.
CEO Ding Cheng said that in terms of serving instrument companies and helping the high-quality development of the industry, Sinomeasure and ZJAIA have a extremely suitable cooperation point. The signing of this strategic cooperation agreement is not only a specific action for both parties to actively serve and integrate into the development strategy of the automation and instrumentation industry, but also an important measure for the two parties to further deepen the cooperative relationship and expand the cooperation field.
According to the cooperation agreement, the two parties will establish a comprehensive, in-depth and long-term cooperation based on the principle of "complementary advantages, seek common development, and win-win cooperation", give full play to their respective advantages, and carry out pragmatic development in industry information, new media, work collaboration and other aspects. Cooperation will contribute more to the transformation, upgrading and high-quality development of the instrumentation industry in Zhejiang Province.