Features
● LCD display screen, 3.5 inches.
● Multi-reading feature allows auto-read, timed-read and continuous-read.
● Automatic/Manual temperature compensation ensures accurate results.
● Auto-hold feature senses and locks the measurement endpoint.
● Data capacity of up to 500 sets for each parameter (GLP-compliant).
● Support for USB communication.
● Auto-power of feature effectively extends the battery service life.
● Reset feature automatically resumes all settings back to factory default options.
● IP65 waterproof. The portable meter is suitable for field measurements and outdoor measurements.
● Support for air-saturated water or zero oxygen calibration.
● Auto barometric pressure compensation.
● Manual Salinity Factor Correction.
● Selectable pressure unit, including kPa, mbar, Torr, Atm.
Introduction
The SIN-DO130D Compact Portable Dissolved Oxygen Meter is a must-have device for professionals who require accurate and reliable measurements of dissolved oxygen levels. This device is designed to be compact and portable, making it easy to carry around and use in the field.
The device is equipped with advanced sensors that provide accurate and precise measurements of dissolved oxygen levels. The sensors are designed to be durable and long-lasting, ensuring that the device provides reliable measurements over an extended period.
The Compact Portable Dissolved Oxygen Meter is easy to use, with a simple interface that allows users quickly and easily take readings. The device is also equipped with a range of features that make it versatile and adaptable to different measurement scenarios.
One of the key benefits of the Compact Portable Dissolved Oxygen Meter is its portability. The device is small and lightweight, allowing users to take it with them wherever they go. This makes it ideal for use in the field, where measurements need to be taken in different locations.
Another benefit of the Compact Portable Dissolved Oxygen Meter is its accuracy. The device provides highly accurate measurements, allowing professionals to make informed decisions based on reliable data. This can be particularly important in industries such as aquaculture, where dissolved oxygen levels can have a significant impact on the health of aquatic organisms.
Parameters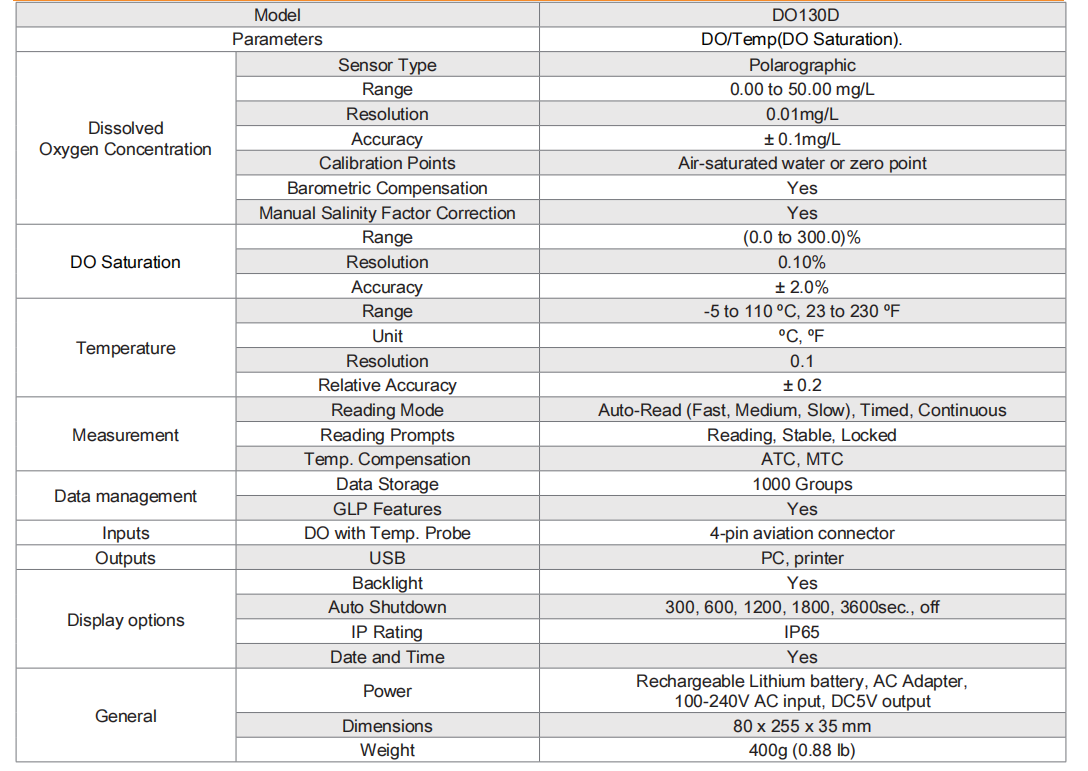 Get A Quote
If you are interested in our products and want to know more details,please leave a message here,we will reply you as soon as we can.