| | |
| --- | --- |
| Product | Paper recorder |
| Model | SIN-R1200 |
| Display | LCD display screen |
| Input | Voltage: (0-5)V/(1-5)V/(0-20)mV/(0-100)mV Electric current: (0-10) mA/(4-20) mA Thermocouple: B, E, K, S, T Thermal resistance: Pt100, Cu50, Cu100 |
| Output | Up to 2 current output channels(4 to 20 mA) |
| Sampling period | 600ms |
| Chart speed | 10mm/h -- 1990mm/h |
| Communication | RS 232/RS485 (need Customization) |
| Power supply | 220VAC; 24VDC |
| Precision | 0.2%FS |
| Shorter mounting depth | 144mm |
| DIN panel cutout | 138*138mm |
SIN-R1200 Paper recorder embodies many functions, such as signal processing, display, printing, alarming and so on, and it is an ideal device to collect, analyze and store data and information in industrial processes. This device is mainly applied on the industrial spots like metallurgy, petrol, chemicals, building material, papermaking, food, medicine, heat or water treatment industry.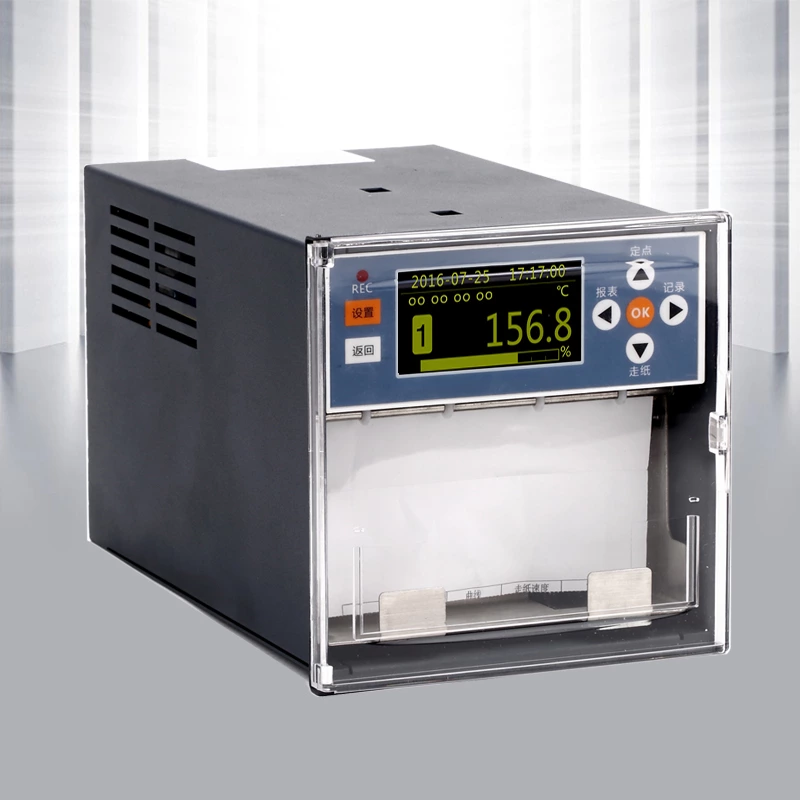 -Display:
Rich information is presented simultaneously, such as timing, data, chart, and alarming and so on; two types of display: set-channel and circular
-Input function: 
A maximum of 8 universal channels, receiving many types of signals like current, voltage, thermocouple and thermal resistance and so on.
-Alarming:
A maximum of 8 relay alarms
-Power supply: 
A maximum of 1 channel power output at 24 voltage.
-Recording: 
The imported vibration-resistant thermal printer has 832 thermal printing points within 104 mm and it has zero consumption of pens or ink and no errors caused by the pen's position; It records in the form of data or charts and for the latter form, it also prints scale label and channel tag.
-Real-time timing: 
The high accurate clock can work normally when the power is shut down.
-Separate channel charts:
By setting up the recording margin, different channel charts are separated.
-Chart speed: 
Free setting range of 10-2000mm/h.
Get A Quote
If you are interested in our products and want to know more details,please leave a message here,we will reply you as soon as we can.